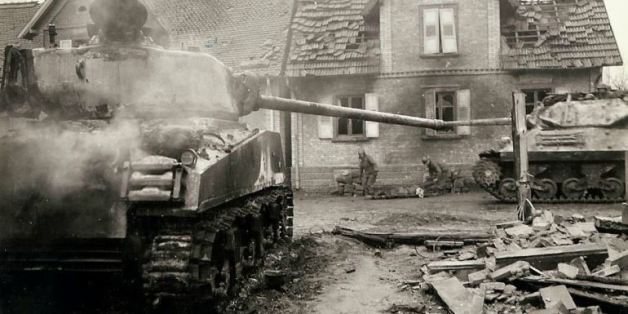 argunners.comA collection of remarkable and graphic pictures taken by a four-star American general has been published for the first time showing the daily horrors across the battlefields of Western Europe during the final months of the Second World War. General Charles Day Palmer took the photographs following the Allied invasion, each frame detailing the brutal devastation wrought on towns, cities and citizenry during the months of the Nazi retreat.Palmer's grandson, who made the discovery while sifting through the general's personal files, published the historical images on the website argunners.com. Palmer, who was born in Chicago, entered the war in 1941 as part of the American military team responsible for planning for the invasion of Europe. He later took part in the invasion of Normandy and the subsequent push back of Nazi forces into their homeland. He died in 1999 and is buried in Arlington National Cemetery in Washington, D.C.
 Bodies of German soldiers on top of each other lying in the street gutter, France

A pill box located just on the outskirts of a Fort, it shows damage, probably caused by American tank fire during the battle to take the stronghold

Wrecked and burned buildings in France. The buildings were mined and burned by the Germans. "Remains of a friendly little town, that was 'scorched'", Gen. Palmer wrote on the backside

German civilians in the middle of their town. Gen. Palmer remarked: "Well liberated town"
Hungarian surrender: Great mass of Hungarian troops who surrendered to Seventh Army, are rounded up in Garmisch-Partenkirchen, scene of the last winter Olympics held before the war

Argunners.com

One thousands German officers and men taken in the redoubt mountains are showed being marched back over to the mountain road that they once defended. The road leads to an important Austrian town

Argunners.com

The surrender of the 19th Army. With the final capitulation of Germany to the Allies, German soldiers who have bore arms for over five years against almost all of Europe and the U.S., surrender their rifles to their American conquerors near Landeck, Austria

Argunners.com

Knocked out American M-4 tank and German Sturmgeschütz IV sit side by side in the street

Argunners.com

A pile of dead German soldiers, France, frozen due to the cold weather

Argunners.com

At 1300 hours, after three days of battle, this town was finally retaken

Argunners.com

Advancing troops moving under heavy enemy fire; dead American soldier in foreground

Argunners.com

A German machine gunner shot through the head, laying next to his smashed gun

Argunners.com

Damage done, when a German 280mm shell landed in the area around 0345 hours

Argunners.com

This French 2 1/2 ton truck burned when its cargo of 800 gallons of gasoline exploded

Argunners.com

These three dead German Waffen-SS troops were a three man 'Panzerschreck' team that tried to slow up the advance of an American armored column and were killed by a direct hit

Argunners.com

Dead German soldiers lie where they fell after artillery worked over this German town during the Seventh Army breakthrough

Argunners.com

Troops string wire past 4 dead German artillery horses which were killed along with 5 German soldiers when an American artillery burst caught them as the horses were being hitched on Dec 14th

Argunners.com

A tank destroyer moving past an American tank that was knocked out during the hot battle when the Americans retook the town

Argunners.com

U.S. Soldier standing next to the remains of a German soldier he just discovered near German Howitzers, which were destroyed by the Seventh Army

Argunners.com

A German bridge is blown sky high by U.S. Engineers, destroying span as a defensive measure against German troops pressing towards the town

Argunners.com

Charred remains of a German pilot, the plane was brought down by small arms fire on March 15, first day of Seventh Army offensive in Germany

Argunners.com

Obliterated German town

Argunners.com

Obliterated town of Heilbronn, Germany

Argunners.com

Path of a B-17 as it crash-landed into a snow covered field on the Seventh Army front

Argunners.com

When this wrecker towing a 155mm Howitzer became stuck in the mud in a road, nothing less than a Bulldozer could budge it

Argunners.com

Seventh Army men looking for snipers in the Bobenthal, Germany

Argunners.com

Helmet and Rifle mark the spot in a ditch by road where two Infantrymen gave their lives, during a new drive by Seventh Army which opened on a front of fifty miles from Saarbrücken to the Rhine

Argunners.com

American forces are trying to recapture Wingen-sur-Moder from German mountain 6

Argunners.com

nglish M-5 Anti-tank mines are used to blow up German Pill Boxes

Argunners.com

A German underground ball-bearing factory in Germany, where all size bearings were made

Argunners.com

Dead horses and wrecked vehicles & equipment of a German convoy are strewn along the road in the vicinity of Lug, Germany

Argunners.com

Prisoners of War from the German Military Police force and Gestapo agents of the city of Strasbourg are led to the 3rd Infantry Division

Argunners.com

M-10 Tank Destroyer from the 636th Tank Destroyer Battalion supporting the 143rd Infantry Regiment, 36th Division in Rohrwiller, 4 February 1945

Argunners.com

Dead American and German soldiers at a cemetery before burial, place unknown

Argunners.com

U.S. Soldier examines the grave of an unknown U.S. soldier, who was buried by the enemy before retreating

Argunners.com
More:
#UK NEWS #UK Pictures #Second World War
Email us corrections or feedback.